Where to find us.. Torbay & Teignmouth
Brixham Kiosk
opposite "Hobb Nobs Gift Shop" on The Quay
Torquay Kiosk
opposite "Hobb Nobs Gift Shop" on The Quay
Long Stay Car Park
Oxen Cove long stay Car Park
Our Departure Point (Passenger Pontoon)
Wait by the gates at the top of the pontoon and keep your eyes peeled around your departure time.
Departure Point D - 'Princess Pier Steps'
On South Pier opposite 'The Harvester' Beacon Quay, Torbay, Torquay TQ1 2RD
Our Brixham Harbourside Kiosk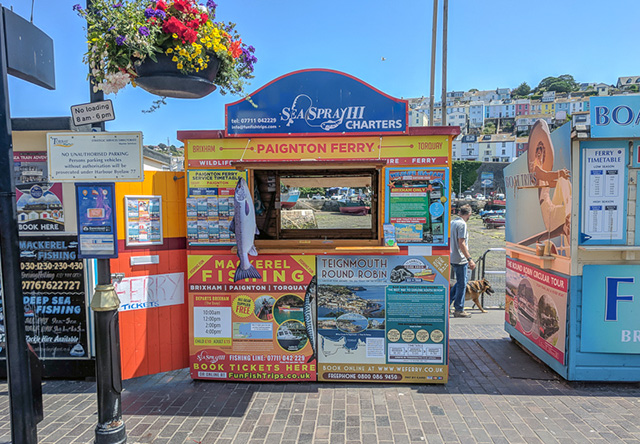 Brixham Address: (Kiosk)
Funfish Trips, Sea Spray III Kiosk
(opposite ULA Gift Shop)
The Quay, Brixham, Torbay,
South Devon, TQ5 8AW

*We don't have information kiosks in Paignton or Teignmouth, but some of our boat trips sail from those places! Bookings can be made online or by telephone, and you'll receive clear, helpful instructions/directions so you cant go wrong! Your confirmation email/text will be your ticket to board.
Paignton* Address: (Boat)
WeFerry, North Quay, Departure Point 'A'
(pier opposite The Harbour Lyte Restaurant)
Paignton Harbour, Paignton, Torbay
South Devon, TQ4 6DT
Teignmouth* Address: (Boat)
WeFerry, New Fish Quay - Public Pontoon
(Opposite the New Quay Inn) 
New Quay St, Teignmouth,
South Devon, TQ14 8DA