Fish and Chips – Evening Cruise with Rockfish™
Settle down with scrumptious fish and chips, and relax on a perfect evening cruise… We set sail from Torquay, Paignton and Brixham on this magical cruise close to the shoreline and geological features of Torbay and beyond.
We have a free drink in behind the bar waiting for you at anytime, and Rockfish™ fish and chips are delivered hot, fresh and delicious to the boat at 7:15pm…
Our fish and chips cruises aren't just popular amongst holiday makers – we have a fair few locals on board too!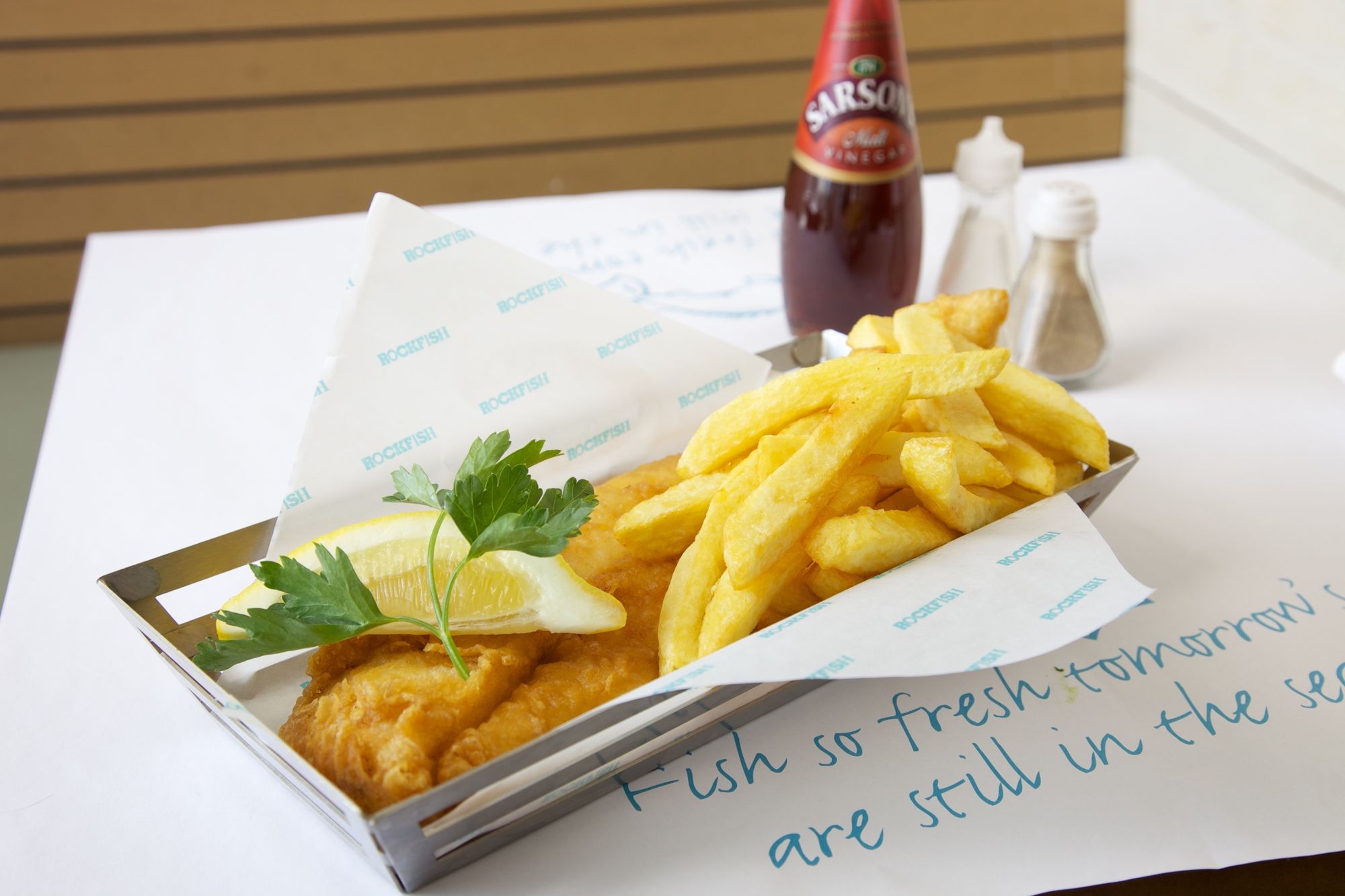 Rockfish™ Evening Cruise information:
This trip normally departs Torquay harbour at 6pm, Paignton harbour at 6:30pm and Brixham harbour at 7:10pm. These times will change to depart slightly earlier towards the end of August, due to sunset times.
Due to the nature of the large orders we place with Rockfish™, please book this trip by no later than 4pm the day before sailing to guarantee your spaces. Sometimes in the summer we are able to extend this deadline to 2pm on the day of sailing, but this isn't always possible.
Sunset Cruise Dates:
Wednesday, 25th of July, 2018
Sunday, 29th of July, 2018
Wednesday, 1st of August, 2018
Thursday, 2nd of August, 2018
Sunday, 5th of August, 2018
Tuesday, 7th of August, 2018
Thursday, 9th of August, 2018
Saturday, 11th of August, 2018
Tuesday, 14th of August, 2018
Thursday, 16th of August, 2018
Monday, 20th of August, 2018
Wednesday, 22nd of August, 2018
Thursday, 23rd of August, 2018
Monday, 27th of August, 2018
Thursday, 30th of August, 2018
September dates will be published soon! (Watch this space…)
Pricing and other information: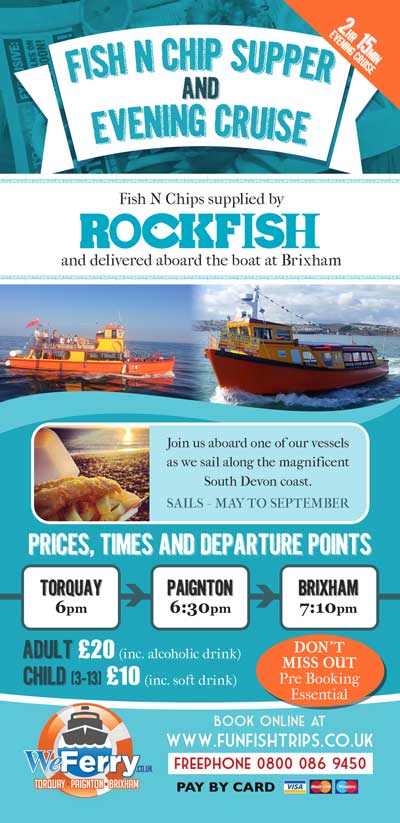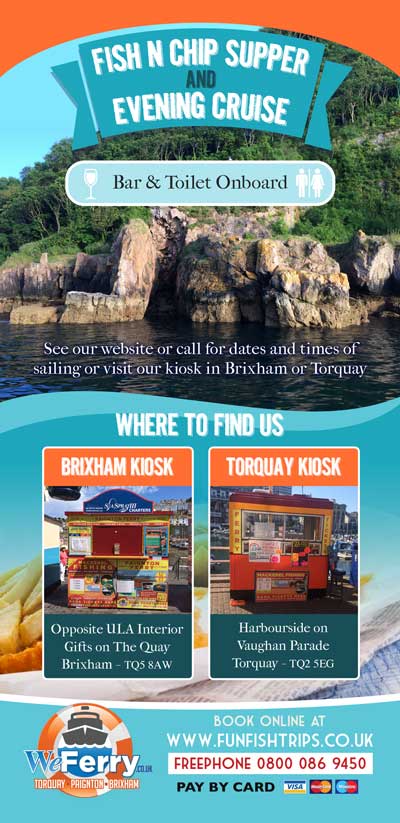 Went out on mackerel fishing trip this afternoon in one of the UK's largest fishing grounds. On way out, skipper kept mentioning how the morning party had caught 30-40 fish. After two hours, only two tiny fish were caught, between 12 people. Now, I realise...More

A TripAdvisor Member


8/25/2018

What a fantastic family run business.....we'd booked to go mackerel fishing from Brixham, but we had a problem as our dogs would not get on with Ross'(the skippers) dog....they were so obliging and made arrangements for us to go fishing from Torquay and would have...More

Heather M


7/04/2018

Arrived in Brixham on a lovely sunny afternoon for the 2 hour mackerel fishing trip. John the captain of our Funfish boat firstly gave us full safety instructions then we were off across the bay. John used his local knowledge of the tides and even...More

571RonB


9/26/2018
Our Brixham Harbourside Kiosk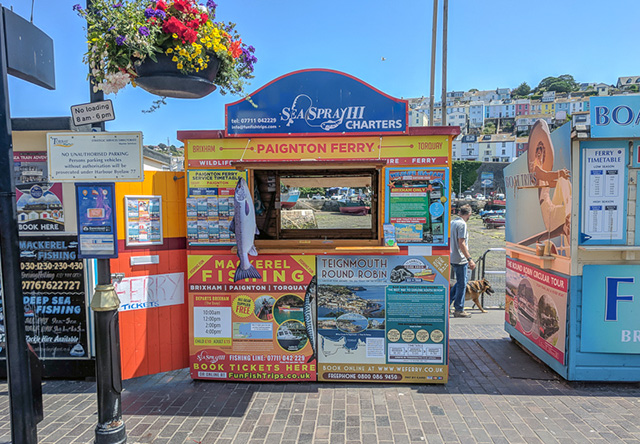 Brixham Address: (Kiosk)
Funfish Trips, Sea Spray III Kiosk
(opposite ULA Gift Shop)
The Quay, Brixham, Torbay,
South Devon, TQ5 8AW

*We don't have information kiosks in Paignton or Teignmouth, but some of our boat trips sail from those places! Bookings can be made online or by telephone, and you'll receive clear, helpful instructions/directions so you cant go wrong! Your confirmation email/text will be your ticket to board.
Paignton* Address: (Boat)
WeFerry, North Quay, Departure Point 'A'
(pier opposite The Harbour Lyte Restaurant)
Paignton Harbour, Paignton, Torbay
South Devon, TQ4 6DT
Teignmouth* Address: (Boat)
WeFerry, New Fish Quay - Public Pontoon
(Opposite the New Quay Inn) 
New Quay St, Teignmouth,
South Devon, TQ14 8DA
Opening Times: (7 Days)
Kiosks: 09:00 - 18:00
Phones: 24 Hours
Call: 07711 042229
Email: info@funfishtrips.co.uk